Galia Brener's column

0
3rd Gourmetsalon at the Schlosshotel Kronberg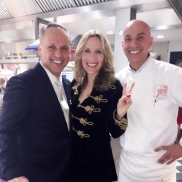 Foto: Galia Brener
It was a wonderful evening full of Michelin stars, culture, wine, delicacies, exotic flavours, handsome chefs, music, champagne, surprises and delicious fun. Read here about my foodie adventure…
Last week was a very delicious one indeed! Being a foodie since I could chew as a child, I have always looked forward to any and all meals of the day. I used to run around the kitchen, annoying my Mama with thousand questions about what we will eat, what is she cooking, how is she cooking and when will the food be finally ready. Unlike many other children who simply wanted to eat quickly and go outside to play, I rather stayed at home to eat slowly, taking my time to taste and savor my food.

Needless to say, when my invitation arrived for the 3rd Gourmetsalon at the Schlosshotel, I was ecstatic! Not only is this one of the most beautiful hotels in this region, it is full of heritage, history, elegance and style. Keeping this in mind, I immediately started sorting out my dresses and preparing the ones that are not too tight around the waist - looking for the perfect one that I can eat in all night, in large quantities and nobody would notice! The magic dress that allows me to eat and eat and eat and not explode at the seam. Otherwise known as: a dream come true.

As we arrived at the Schlosshotel in Kronberg, there was a beautiful red carpet laid out for the guests and the excitement could be felt from miles away. Franz Zimmermann, the hotel director, greeted everyone personally at the entrance and gave us a warm welcome. Upon entering the lobby, we were given two cold flutes of champagne to enjoy. Across the lobby is a romantic Romeo and Juliet style balcony, where a band was playing and entertaining the curious guests. After most of the gusts had arrived, Mr. Zimmermann gave a speech and presented all of the Michelin starred chefs. I was incredibly impressed by the names that I heard. This evening we had a privilege to enjoy the creation of Philipp Stein, Marcello Fabbri, Alexander Hohlwein, Satoshi Fuji, Jörg Lawerenz, Cedric Schwitzer, Ronny Siewert, Christian Weber and Gerhard Wieser.

After the wonderful presentation of the chefs, it was finally time to eat! I could see how excited and hungry everyone was, and almost immediately the guests were gone and spread out into the various areas of the hotel. The cool thing about this event is that it takes place in all of the lovely areas and rooms of the Schlosshotel, including the large kitchen itself. I'm a huge fan of their kitchen, because it's one of the nicest ones I've seen in a hotel so far. It boasts high traditional European ceilings and state of the art equipment. Of course being the little carnivore that I am, I directly made my way to the juicy steak and spent a while there, appreciating the perfectly prepared meat.

While in the kitchen, I met Gerhard Wieser, a two started Michelin chef, and had an interesting chat with him. Mr. Wieser told me that he is inspired by nature. He comes from Südtirol and grew up with the Italian, farming and Mediterranean culture. His mother was a cook and he learned the magic of perfect food from her. We had a lot to talk about, considering that we both love food so much! Gerhard Wieser is also a best selling author, having sold over 1.5 million books called, "So kocht Südtirol". For tonight, Mr. Wieser prepared tortellini with chicken, Parmesan and black truffle. Having an amazing Michelin chef, a famous author and lots of steak in front of me, I was compelled to ask him a curious question: what his opinion about the vegan lifestyle is. Mr. Wieser said that being vegan is like fashion trend: it comes and it will go.

After eating all the steak and seafood that I can fill into half of my dress, it was time to fill the other half with the tasty delights in the other rooms. On my way out of the kitchen, I discovered the hidden Laurent-Perrier champagne bar perfectly balanced with fresh oysters. I was very happy to stay in this area for a while longer, enjoying the amazing Maldon oysters, delicious champagne, meeting new foodies and sharing our funny food stories.

Next stop for me was the red salon, which is my favourite room in the Schlosshotel. It's warm, sensual, cozy and very romantic! There was a band playing all my favourite songs, which made the delectable goose liver cube in combination with rhubarb, salted caramel and Prinz von Hessen wine taste even better. What a spectacular explosion for the tastebuds! I was very impressed by the depth of the various flavours intertwining into each other. I was curious to see more. Next were the restaurant, green and blue salon, which displayed more incredible temptations, including sushi, sashimi, fish, amazing dried meats, Norwegian scallops, pork belly, seafood, red shrimp, more steaks, desserts, pastries, pralines, fresh breads, delicious and rare wines, cheeses, chocolates and everything else that the heart, soul and body desire!

Slowly the second half of my dress was starting to become a bit tight. With a huge and satisfied smile on my face, I bid farewell to everyone, congratulated Mr. Zimmermann on a very successful event, looked back at the steak longingly, wishing I had more place in my stomach. It was time to leave the beautiful Schlosshotel Kronberg and make my way back to my favourite little cosmopolitan city with a big attitude. It was a wonderful evening full of Michelin stars, culture, wine, delicacies, exotic flavours, handsome chefs, music, champagne, surprises and delicious fun. I will definitely be back for more!
31. März 2017
Galia Brener
Mehr Nachrichten aus dem Ressort
Panorama
Durchsuchungen und Festnahmen im Rhein-Main-Gebiet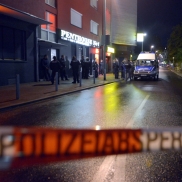 Islamisten sollen Terroranschlag geplant haben
Bei Durchsuchungen im
Rhein-Main-Gebiet sind elf Personen festgenommen worden. Sie stehen im Verdacht, einen islamistisch motivierten Anschlag mit einem Fahrzeug und Schusswaffen geplant zu haben, um so viele "Ungläubige" wie möglich zu töten. –
Weiterlesen >>
Text: hes / Foto: Bernd Kammerer
Ein Kommentar zur Berger Straße

1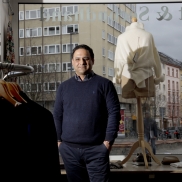 "Wir machen hier nicht irgendeinen Soja-Latte-Macchiatio-Modetrend mit"
Die Berger Straße
sei ein Ort der Entmenschlichung, schrieben wir vor wenigen Wochen. Kaweh Nemati von der Interessengemeinschaft Untere Berger Straße hält dagegen: Der Kommentar verkenne das Engagement der lokalen Ladeninhaber und Gastronomen – und die Verantwortung der Stadt Frankfurt. –
Weiterlesen >>
Text: Ronja Merkel / Foto: Harald Schröder
Ermittlungen gegen hessische Polizeibeamte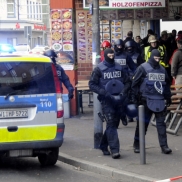 34 Polizisten unter Rechtsextremismus-Verdacht
Der hessische Polizei-Skandal
weitet sich immer mehr aus: Inzwischen wird gegen 34 Polizeibeamte wegen rechtsextremer Vorkommnisse ermittelt. Dies sagte Innenminister Peter Beuth (CDU) im hessischen Landtag in Wiesbaden. –
Weiterlesen >>
Text: hes / Foto: Bernd Kammerer
Kopfüber gehisste Flaggen am Holocaust-Gedenktag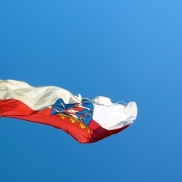 Ermittlungen gegen Polizisten eingestellt
Vor einer Polizeistation
in Schlüchtern wurden die deutsche und die hessische Flagge am Holocaust-Gedenktag falsch herum gehisst. Die Staatsanwaltschaft Frankfurt hat die Ermittlungen nun eingestellt, es läge kein Strafbestand vor. –
Weiterlesen >>
Text: hes / Foto: Lupo/Pixelio
Aktion am Internationalen Down-Syndrom-Tag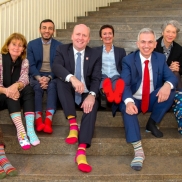 Mit bunten Socken ein Zeichen setzen
Am Donnerstag, den
21. März findet wieder der Internationale Down-Syndrom-Tag statt. Mit weltweiten Aktivitäten soll das öffentliche Bewusstsein für Menschen mit Trisomie 21 gesteigert werden. In Frankfurt wird die Aktion "Bunte Socken" veranstaltet. –
Weiterlesen >>
Text: hes / Foto: Bernd Kammerer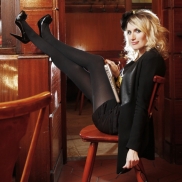 Galia Brener talks about love, relationships, life, events and lifestyle - in Frankfurt! You can personally contact Galia Brener with your questions and comments
via Facebook
or at galia@journal-frankfurt.de